Sweden is considered by French scholars as a representative of the European model of multiculturalism along with the Netherlands and Great-Britain. The Swedish "immigrant policy' was commonly depicted as the by-product of liberal pluralism supported by popular social movements (folkrörelser) at the heart of the Swedish political culture 1 . It has therefore been argued that Swedish multiculturalism stood in opposition to the alleged French tradition of universalism in which the state is meant to "guarantee the unity of a common political space which ensures the integration of all individuals irrespective of their social, religious, regional or national background through abstraction and formal equality' 2 .
Policies aiming at handling the otherness of the other are therefore thought to stem from opposite traditions in France and in Sweden 3 . The French model is thought to emphasize the right of individuals at the expense of the communities whereas the Swedish model is depicted as granting rights to communities rather than to individuals. This distinction is appealing at first sight since it provides an insight into the global frame of reference for Swedish and French policies handling the otherness of the other. It nevertheless requires further qualification since it fails to explain similarities between immigration and integration policies in the two countries as well as the increasing convergence that has occurred since the 1980s.
The alleged multicultural stance in Sweden can be questioned as its immigration policy has been multi-facetted from its very onset 4 . The contradictions between the official rhetoric and social practices in Sweden had yet to be underlined since:
"Nordic countries are not witnessing the constitution of organized ethnic minorities as in Great-Britain. Beyond the affirmation of respect towards cultural identities, we observe a strong pressure to align on the values of the host society which calls forth the French integration policy' 5 .
Even though this statement reflects a French-centered understanding of cultural diversity, it highlights the peculiarity of Sweden's approach towards multiculturalism. Conversely, French immigration policy has often departed from its alleged universalist stance as it sought to ease the return of foreign workers to their homeland 6 . The polarizing effect of comparisons drawn between France and Sweden on immigration matters may have obscured the issue. The European legislation as well as the disillusion with the results of immigration have caused policies to converge. This article aims therefore at questioning the underlying statement that France and Sweden have contradictory, if not conflicting, values on matters of immigration.
Conclusion
Principled pragmatism has driven the evolution of attitudes towards cultural diversity in both France and Sweden. Differences between the institutional settings of the two countries and the matter of otherness proved not to be as marked as their official rhetoric. Swedish officials have hence abandoned the idea of putting foreign communities at the heart of the decision making process on the matter of integration. Migrants' associations felt disconcerted towards this new integration policy that appears a bit fuzzy 35 . On the opposite, French political leaders have tried to leave more space to the expression of the otherness in a society that contended with regional identities. As a result, French and Swedish institutional settings have initiated a convergence, increased by common EC legislation. Each country has yet retained some of its distinctive features inherited from previous institutional settings as well as social representations. This could explain how Sweden manages to outperform France at the MIPEX index.
However the two societies are experiencing a common impatience towards the integration process. The public debate over the ban of burqa and niqab in France in 2009 reflected this impatience. It appeared in Sweden with the conviction that a part of migrant communities cannot manage to integrate 36 . It is however difficult for scholars to draw conclusions on this matter since integration is "a process that can only be assessed with hindsight in order to tell whether it succeeded or failed' 37 . Integration is therefore a process that involves society as a whole over a long period of time.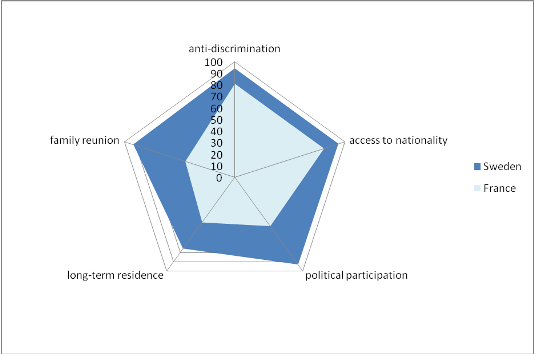 Bibliography
References
BARROU, Jacques. Europe, terre d'immigration. Flux migratoires et intégration, Presses universitaires de Grenoble, 1991.
BLEVIS Laure, LAFONT-COUTURIER Hélène, JACOMIJN SNOEP Nanette, ZALC Claire (sous la dir. de), 1931 : Les étrangers au temps de l'exposition coloniale, Paris, Gallimard, 2008.
BOREVI Kareni, Välfärdsstaten i det mångkulturella samhället, Uppsala, Uppsala: Acta Universitatis Upsaliensis, 2002.
CALVES Gwénaële, "Les politiques françaises de discrimination positive: trois spécificités', Pouvoirs, n°111, 2004.
COMITE INTERMINISTERIEL DE CONTRÔLE DE L'IMMIGRATION, Les orientations de la politique de l'immigration, Paris, 2008.
DAHLSTRÖM Carl, Nästan välkomna. Invandrarpolitikens retorik och praktisk, Göteborgs Universitet, 2004.
DIR. 2007:52, Effektiva insatser och incitement för snabbare arbetsmarknadsetablering för nyanlända flyktingar, Stockholm, 2007.
GIRAUD Olivier et WARIN Philippe (sous la dir. de), Politiques publiques et démocratie, Paris, La découverte, 2008.
HAUT CONSEIL A L'INTEGRATION, Liens culturels et intégration, Paris, La documentation française, 1995.
JEDERLUND Lars & KAYFETZ Victor, "In transition: From immigration policy to integration policy in Sweden', in Scandinavian Review, Spring 1999.
KEPEL Gilles, Les banlieues de l'Islam, Paris, Le Seuil, 1987.
LINDVALL Johannes and SEBRING Joakim, "Policy Reform and the Decline of Corporatism in Sweden', West European Politics, vol. 28, No. 5, November 2005.
MARIE Claude-Valentin, « A quoi sert l'emploi des étrangers?', in Les lois de l'inhospitalité. La politique de l'immigration à l'épreuve des sans-papiers, Paris, La Découverte, 1997.
MELLA Orlando och PALM Irving, Mångfaldsbarometern 2009, Uppsala, Uppsala Universitet, Oktober 2009.
MINISTERE DE L'EDUCATION NATIONALE, DE L'ENSEIGNEMENT SUPERIEUR ET DE LA RECHERCHE, Pilotage et cohérence de la carte des langues, n°2005-019, Paris, avril 2005.
NOIRIEL Gérard, Le creuset français. Histoire de l'immigration XIXe-XXe siècle, Paris, Seuil, 2ème édition, 2006.
PRED Allan, Even in Sweden. Racisms, Racialized Spaces, and the Popular Geographical Imagination, Berkeley, University of California Press, 2000.
PROPOSITION 1975:26, Regeringens proposition om riktlinjer för invandrar- och minoritetspolitiken, Stockholm, 1975.
PROPOSITION 1997/98:16, Regeringens proposition om Sverige framtiden och mångfalden – från invandrarpolitik till integrationspolitik, Stockholm, 1998.
PROPOSITION 2006/07:1, Budgetpropositionen för 2007, utgiftsområde 13: Arbetsmarknad, Stockholm, 2007.
PROPOSITION 2008/09:1, Budgetpropositionen för 2009, utgiftsområde 13: Integration och jämställdhet, Stockholm, 2009.
PROPOSITION 2008/09:158, Regeringens proposition Från erkännande till egenmakt - regeringens strategi för de nationella minoriteterna, Stockholm, 2009.
SAYAD Abdelamek, «  Qu'est-ce que l'intégration ? » in Abdelamek Sayad (dir. by), La double absence, Paris, Seuil, 1999.
SCHNAPPER Dominique, L'Europe des immigrés, Paris, ed. François Bourin, 1992.
—, « La relation à l'autre à travers les citoyennetés de l'Europe », Hermès, n°23-24, 1999.
—, Qu'est-ce que l'intégration?, Paris, Gallimard, 2007.
SFS 2008:62 och 2008:63, Förordning om statsbidrag till organisationer bildade på etnisk grund, Stockholm, 2008.
SOU 2005:56, Det blågula glashuset - strukturell diskriminering i Sverige, Stockholm, Allmänna förlaget.
— 2006:79, Integrationens svarta bok. Agenda för jämlikhet och social sammanhållning, Stockholm, Allmänna förlaget.
— 2007:50, Mångfald är framtiden, Stockholm, Allmänna förlaget.
— 2008:26, Värna språken – Förslag till språklag, Stockholm, Allmänna förlaget.
SÖDERGRAN Lena, Svensk Invadrar- och Integrationspolitik. En fråga om jämlikhet, demokrati och mänskliga rättigheter, Umeå Universitet, 2000.
TAGUIEFF Pierre-André, La force du préjugé, Paris, Gallimard, 1987.
VALLUY Jérôme, Rejet des exilés. Le grand retournement du droit de l'asile, ed. du Croquant, Paris, 2009.
WEIL Patrick, La France et ses étrangers. L'aventure d'une politique de l'immigration de 1938 à nos jours, Paris, Gallimard, 2nde édition, 2004.
WIEVIORKA Michel, "Culture, société et démocratie' in Wieviorka M. (ed. by), Le multiculturalisme en débat, Paris, La Découverte, 1996.
—, La différence. Identités culturelles: enjeux, débats et politiques, Paris, Ed. de l'Aube, 2005.
ÅLUND Aleksandra & SCHIERUP Carl-Ulrik, Paradoxes of multiculturalism, Adelshot, Aresbury, 1991.